Old widow calls a taxi for a 4,000-mile trip to Greece
A widow aged 89 called a taxi for a 4,000-mile trip to Greece — and paid a Ј2,000 fare.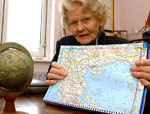 Kathleen Searles didn't fancy flying for the dream holiday with friend Wendy Turner, 73, so she booked the cab.
Taxi driver Julian Delefortrie, 63, agreed to the fare of a lifetime and spent three days driving the pals through Europe from Sudbury, Suffolk.
They took the air-conditioned eight-seater Ford Torneo on the ferry to Calais and had overnight stops in Munich and Belgrade before reaching Edessa in Greece.
Kathleen and Wendy spent five days looking at ancient ruins including Alexander the Great's birthplace at Pella and Aristotle's School in Naousa.
Cabbie Julian then took a leisurely five days to drive them home, stopping in Belgrade, Budapest, Linz in Austria and Frankfurt.
Kathleen could have paid as little as Ј59 for a budget flight to Greece, but she described her 50p a mile taxi ride as "money well spent". Kathleen also forked out for the cabbie's accommodation and food, the Sun reports.
She said: "I am very elderly and I didn't fancy flying. I am not very keen on airports any more as I don't like being taken around in a wheelchair.
"I have been in Julian's taxi on a number of occasions when I have gone to London and I just thought it would be a comfortable way to get to Greece.
"It was also a fantastic way to see lots of beautiful scenery and stop in lots of lovely places on the way there and back. You wouldn't have been able to do that in a plane.
"I thought it would be very nice just to get in the car at Sudbury outside my own front door and then not have to worry.
"The trip went very well. All the driving was trouble-free and we had some glorious weather. It was a dream come true."