Sober bears have nothing to fear for in Russian villages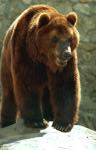 Inhabitants of district center Selizharovo in the Tver region could confirm that the stereotype of Russia as a country where bears walk in the streets broadly spread in the West is not without grounds, RBN.Ru reports. However, real Russian bears are not interested in drinking alcohol as they are shown in some Russian comedy films.
The villagers were hiding themselves in their houses while the bear was walking in Selizharovo. In spite of expectations, the bear ignored the local warehouse and he only ruined several wicker fences, trampled down some vegetable gardens, and then went away. The policeman who arrived after a villager's call decided not to use his weapon while reasonably noticing the animal behaved even more quietly than some of local inhabitants on the day they receive their salaries.