"Gumologists" blow and measure gum bubbles for a living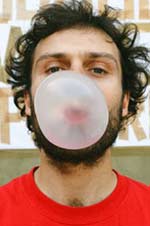 Sam Kushner chews gum for a living. Every day, he and 23 other professional tasters at Cadbury Schweppes' Gum Centre of Excellence in Whippany, New Jersey, don their white lab coats and sit chewing as they ponder the latest flavours and textures developed by the company's team of expert gum technicians.
Mr Kushner, handpicked for his acute sense of taste, undertook six months of training to get the job. "It's great — I love it," he said. "I just chew gum and eat candy all day long."
The sight of grown men and women blowing and measuring their gum bubbles may seem surreal, but gum is big business — and it is getting bigger. The global chewing and bubble gum market is now worth around Ј10 billion, according to Jim Cali, Cadbury Schweppes's director of global gum.
It is growing at 8 per cent per year — double the rate of the sweets market and significantly higher than chocolate's 5 per cent. In most countries, sales are surging, driven by gum's popularity as a preferable alternative to high-calorie snacks and cigarettes, as well as improved gum recipes and packaging.
Source: timesonline.co.uk