Men respond to female emancipation with expensive male prostitution
Emancipation is an amazing phenomenon indeed! Today, sex services are available not only for men but also for women. On the Internet and in newspaper commercial ads there are phone numbers of numerous agencies offering male services to women, and also to men.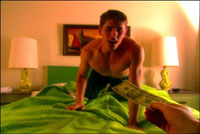 Men's love for money is almost twice as expensive than services offered by call girls. The high price does not scare away those women who seek new sexual experiences. According to expert estimates, the demand for call boys has increased by eighty percent within the past three years. In the early 1990s when the call boys industry was just appearing its services were popular basically among gays. Today, women make up half of clients using call boys' services.
As a rule, rent boys are really proficient and adroit. They can make a woman enjoy orgasm even if she never had it before.
A good company offering call boy services has a telephone operator who can give detailed characteristics of men whose services the company offers to clients. Female clients want to know before they place an order if they can have a brutal macho or a tender boy, a blond or a brunette. They also want to know more about men's skills in bed. A preliminary inquiry is important if a woman wants to get what she actually wants. In case it turns out that a female client opens her door to a guy who absolutely contradicts to the characteristics she described in her order she has a right to send him back and pay no transportation fee.
Staunch feminists and domination-inclined women become excited at the very though that they can pay money and men will serve them. Who are the women who use services of call boys? Some women cherish the dream of having careless sex. Some lonely women want just sex that they cannot get in everyday life at home. Others want call boys to spice up their lives. These are as a rule rather experienced women, and their regular sex partners often approve of their women's decision to have sex with rent boys. There are also women who love the experience and proficiency of rent boys.
The overwhelming majority of clients of agencies offering services of call boys are women aged between 30 and 45. These as a rule are wives of rich men or business women who have enough money to pay for their sexual whims. However, twenty-year girls and women over fifty also use services of call boys.
A telephone operator of one of Moscow's agencies offering services of call boys says that guys spend more efforts on plump women. Sometimes they even faint because of overstrain when working with such clients. As a rule, repeated services of plump women cost much more than a standard payment. At the same time, there are call boys who love to serve plump women. The operator adds that call boys must obligatorily use condoms. They stipulate beforehand if they kiss their clients' lips or not. It is important that if a couple orders services of a call boy practicing traditional sex with the opposite sex only, there must be no sex contacts with a male client.
The cost of a call boy is settled beforehand and depends upon his looks, proficiency, additional services such as massage or striptease and upon the time he devotes to every particular client. At that, agencies usually charge more for services offered to married couples or to several women at once. It may happen that women call agencies and ask for a discount for having sex with a call boy because they are short of money. As experience shows, this is just a trick in ninety percent of cases. Thrifty female clients always pay call boys what they must pay and even give some more money for taxi. Clients are not obliged to give a tip to call boys but still many women still prefer giving a tip. If a woman wants to give a tip to a call boy it should make up from one third to a half of the sum fixed for his services.
Call boys must be perfectly potent; they also must be good actors and be tactful. Indeed, many women feel it is a psychological problem for them to go to bed with a man whom they do not know. That is why, call boys should help clients first relax and dispose them to making love. It is important for call boys to establish verbal contacts with their clients.
Call boys often agree to play roles such as a teacher seducing a pupil; a nurse serving her patient and so on. It is really seldom that female clients want absolute depravity or sado-masochistic pastime. Majority of clients love to talk to call boys before having sex just to know more about their work and for better excitement. Usually, women want call boys services for two or three hours to have enough time both to talk and to make love.
Men between 25 and 35 are especially popular among women of any age category. At that, the color of their hair does not matter; blonds are as popular as brunettes. It is important that a call boy must be handsome and of nice figure. He must be slender, neat and honest. He is also supposed to smell nice. There are no alcohol or drug addicts among call boys. Call boys are as a rule young men leading healthy lifestyles and going in for sports because it is important for their good potency. Men spending all nights long at night clubs are not welcome among call boys.
Call boys always use condoms as they take care of both their own an clients' health. Fifty percent of call boys work just for money, and the other half just enjoy having sex. Men usually serve clients two or three times a week and usually stay in the industry within 1-3 years.