Obesity pushes terrorism off and becomes USA's biggest threat
"Excess weight is becoming even a greater threat to USA's national security than terrorism," Richard Carmona, the head of the US Department of Health and Human Services thinks.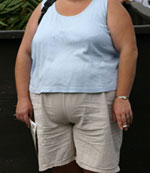 During his speech in the University of South Carolina, he described the obesity of the American population as "inner terrorism". According to Carmona, if US authorities take no measures, the scale of the problem may exceed the consequences of the 9/11 attacks and other attacks carried out by terrorists, Interfax reports.
In the last 40 years the number of overweight US citizens has tripled. Obesity has become a serious problem for a third of the entire nation nowadays. This only concerns those who have 14 or more kilos of excessive weight. American children eat too much food containing fat and sugar and don't eat enough fruit and vegetables.
Scientists have studied the nourishment system of 3,000 people and came to conclusion that American children from 1,5 to 2 years of age consumed about 1220 calories a day. The number exceeds experts' recommendations by 30 percent.
In the age of 7 to 11, the amount of calories consumed exceeds the necessary level by 20 per cent. By the time US children reach the age of two, they already suffer from severe eating disorders typical of average Americans.
If the situation remains the same, Carmona stressed out, US Armed Forces will soon suffer from a serious lack of able-bodied individuals for military service.