Animal stories of 2006: flaming mouse burns down a house
There are plenty of funny stories about animals. Here are the best funny animal stories of 2006: an African grey parrot blows the cover on its mistress' love affair, a flaming mouse burns down the house, a tortoise travels 2 miles for 8-month period, small fish rains down on a village in southern India.
- Ziggy Stardust, an African grey parrot in England, blew the cover on its mistress' love affair by blurting out imitations of her amorous exchanges in front of her companion. The latter, named Chris, realised something was up when the bird started repeating the name "Gary."
"We were watching telly when Ziggy blurted out, 'I love you, Gary' in Suzy's voice," Chris said. "I started laughing but when I looked at Suzy, I could tell something was up."
- In Wales a family pet named Horace confirmed that tortoises are generally not the speediest of creatures (except of course when they are pitted against hares). Horace went missing in mid-2005, and was finally located in May by an animal welfare official who was able to identify him thanks to a microchip fitted by his owner.
In eight months Horace had travelled just under three kilometres (two miles) from his home, which the BBC calculated came to an average of 12 metres (39 feet) a day.
- Much more seriously lost than Horace was a northern bottlenose whale which appeared in the River Thames in central London in January. The animal, a young female measuring almost six metres (19 feet), attracted huge crowds and a major engineering project to try to get it back out into the North Sea.
However the mammal, nicknamed "Wally" by one tabloid newspaper, died of dehydration before she could be returned to the wild.
- A man in the US state of New Mexico got more than he bargained for when he decided to throw a live mouse he had caught in his home onto a fire burning outside. With sparks in its fur, the unfortunate rodent scurried to take refuge by a wall of the wood-frame house, which then caught fire and burned down.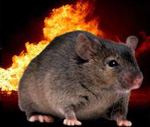 - It was not a fire but a flood that a pet iguana set off in the German city of Stuttgart . The one-metre (three-foot) long reptile, left alone in its owner's house, must have flipped a water tap with its tail, police said afterwards.
- New Yorkers were gripped by the story of a cat called Molly which got stuck between the double walls of an old building in Greenwich Village, Manhattan. It took 40 firefighters and two weeks of work to get her out safe and sound. Molly must have survived on mice, and water dripping from the walls, her rescuers said.
- Small fish rained down on a village in southern India . A scientist said they were probably picked up by a waterspout or mini-tornado out at sea.
- The US fast food giant McDonald's agreed to change the shape of the cups used for one of its desserts after English animal lovers complained that hedgehogs -- a threatened species -- were getting their snouts stuck in them and dying.
- An animal rights group in Northern Ireland complained after a video of a man biting the head off a live mouse at a party in the province was displayed on a web site.
- The threat of bird flu led officials at the Tower of London to lock up the six ravens that are kept on the grounds. Legend has it that if the birds ever leave the Tower the monarchy will fall, said officials at the former royal palace, trying not to sound nervous.
- To greet the annual Nobel Prizes, tongue-in-cheek scientists in the United States handed out their own "Ignobel" awards. They included rewards for boffins who had researched into why woodpeckers don't get headaches from all that tapping, and whether dung beetles really enjoy their diet of faeces.
- The mayor of a Dutch village invoked a law banning advertising close to a nearby superhighway in order to prevent an ad agency from putting jackets carrying commercial messages on the backs of grazing sheep. The law was the law, no matter whether the ads were "on a billboard, on a sheep or on a dinosaur," he said.
- Britain 's royal family continued to face flak from animal rights groups over the use of bearskins to make the distinctive hats worn by the horse guards who protect its buildings in London .
The defence ministry said that bear-friendly headgear suggested by the activists did not perform well in the rain, but added that if a satisfactory alternative could be found, it would most definitely be used.
In the meantime, officials insisted that no bear suffered unnecessarily to help guard the monarch: the trapping, done in Canada, was humane.
- A zoo at Entebbe in Uganda said that "Big Mama," a 52-year-old Nile crocodile that had been one of its star attractions, had finally been put to sleep. "The crocodile had been ill for a long time," a local wildlife official said. "For several months it had not been moving or feeding itself."
Also among the dear departed: a pet pig belonging to the US film star George Clooney.
A celebrity web site said Max had died of arthritis at the ripe old age of 18. If the animal had been taken ill during Clooney's cult TV series, they could perhaps have rushed him into the "ER".
Source: AFP