Air-freshener appears to be good reason for divorce in Egypt
We could hardly call divorce a funny procedure. However the reasons for it could be quite funny. An Egyptian woman has obtained a divorce from her husband after he sprayed their flat with air-freshener that triggered off her chest allergy.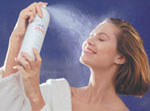 Cairo's Maadi Family Court granted the woman, identified only as Suad, a divorce from her Sudanese husband for spraying their apartment with a perfume containing essence of aloe and alcohol.
The husband, Hussein, had already been subpoenaed three times over the same issue, the daily Egyptian Gazette reported Sunday.
"Hussein refused to stop using this perfume, despite the fact the he knew I had a sensitive chest. He said he'd used it since he was a child in his family home," Suad told the court.
"I love my husband and I want to stay with him, for his sake and for the sake of our three children, but it's just not possible," she said.