Couple of thieves complete their crimes leaving neat piles of feces
Igor and Irina, a married couple from the Russian town of Dmitrovograd, lost their jobs during a recent staff reduction in their companies. However, they were not fond of looking for new jobs. They decided to become thieves instead to make their ends meet.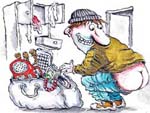 The newly-fledged thieves were robbing only country houses because the latter usually had no metal bars on the windows. The scheme of their crimes was very simple: Igor would break into a house through a window and open the door to let his wife in from the outside.
Although the couple has never had a criminal record before, their first robbery was a success. They managed to steal about 20 000 rubles (750 US dollars). The easy money made the thieves feel self-confident, and they began to rob several houses a month.
They assumed later that they were very experienced criminals so they had to invent their own distinctive mark for their activities. They would leave piles of feces on the carpets of the robbed houses, eg.ru says.
The police said the thieves had left about 12 of such "stinky marks".
The criminal couple was caught when a pensioner called the police and told them about a suspicious couple walking about a house in the neighborhood. When the police arrived, the woman was packing bags while her husband was doing his best to leave the "distinctive mark" on the carpet.