Wrong fuel destroys luxurious yacht of Roman Abramovich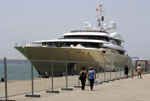 The yacht at the cost of 72 million pounds sterling, which belongs to a famous Russian businessman Roman Abramovich, was filled up with a wrong type of fuel. The full tank of fuel for the 115-meter Pelorus yacht costs about 120 thousand British pounds. The fuel cleaning system will cost the Chelsea football club owner up to seven million pounds sterling.

The incident took place when the yacht was being prepared for its owner's vacation on Malta.
A representative of Abramovich on Malta Island described the incident a "catastrophe." According to his words the inadequacy of the fuel and engine was discovered by mechanics. Still, it remains unclear how this could happen.

Roman Abramovich was going to take a flight to Malta with his wife and five children in the middle of July and to set sail on the Pelorus. However, an unfortunate mistake frustrated all his plans. That is why the family set off for Sardinia. The yacht put out in the same direction on 28 July.

The 38-year-old businessman owns the fortune of 7.5 billion pounds.  The Pelorus is the fifth largest yacht in the world.