Pervert obsessed with bondage sex dies after playing victim of Nazi hangman
A bondage sex lover who pretended to hang himself during a sex game died after giving his girlfriend a blunt knife to cut him down.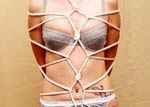 Kinky Simon Burley, 38, put a noose around his neck as lover Elizabeth Hallam played the part of a neo-Nazi hangman, an inquest heard.
But Ms Hallam said that after he kicked away a chair he was standing on, she could not cut the rope to save him.
He died despite the efforts of paramedics at the house in Grimsby, North Lincs.
Neighbour Leslie Walker told the inquest she heard arguing. But Ms Hallam insisted it was part of the bondage sex game, the Sun reports.
Coroner Stewart Atkinson said it was impossible to know if fetishist Simon — who was obsessed with watching women being hanged — knew the knife was blunt.
He recorded an open verdict at the inquest in Cleethorpes.