Tourism gives opportunities for sexual adventures
It is known that for some men tourism includes not only sightseeing but also sexual adventures. Such men are eager to find out if women's love and caresses are stronger and tenderer in other countries.
Some novelist wrote in his book that all women in a foreign country seem mysterious because one cannot understand the language they speak. And men usually get disappointed as soon as the language of foreign women becomes clear for them. Men believe that women in different countries speak just about fineries, men and money.
In all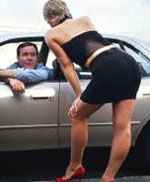 epochs, conquerors before plundering countries they conquered first raped women of the country. That was some sort of a ritual: warriors thought they would finally conquer a country when had sex with wives and sisters of their enemies.
Some Russian man boasted of his sexual adventures in different parts of the world.
He first of all spoke about Brazil and about the carnival as about the thing that struck him most of all. The man said any male could seduce a Brazilian woman either for free or for $30 at most. At that, women selling love for money have better teeth than those who can give love for free which in its turn means the former have less vile diseases. Discos in Brazil are the best place to pick up a woman. People worldwide basically know only the Rio carnival in January. In fact, the man said carnivals are more frequent in Brazil. During carnivals, he said no men pay to women for love otherwise the latter may even feel hurt when given money. At carnivals, one can see couples copulate here and there, in gateways and on park benches. Policemen give out condoms for free during carnivals. Imagine that during the last carnival in Rio policemen gave out 300,000 condoms!
In Brazil, the number of gigolos is even higher than the number of prostitutes. A group of gigolos immediately appears when a light-haired white-skinned European woman reveals a bigger part of her body on the beach. They will try to show themselves to the best advantage and demonstrate their relief muscles. It is enough for a woman just to pay $100 to have such a macho carrying her luggage, fetch fresh juice, sing serenades and satisfy her various extravagancies.
Another man was not at all envious of the sexual adventures in Brazil as he personally loved his own adventures in Cuba. He said that sex in Cuba was a habitual pastime, some state of soul. He added that in Cuba there are just few women who are unpurchaseable. Gorgeous girls from the Tropicana variety show may agree to have sex for $100 while ordinary girls whom men can pick up in bars will be quite satisfied just with $20. It is important that female Cubans give in to men with zeal and much love.
As for South Korea, activity of prostitutes in strongly prohibited in Seoul. Prostitutes are available only in remote coastal towns. Shop windows there demonstrate sausages, canned goods and shoes at daytime. But the same shop windows are cleared off the goods after 6 p.m. and prostitutes are displayed there. These girls offer love for good prices of $20-30. But they would not have sex with Russians as Russian men, as the girls complain, have too big penises. Besides Koreans, there are lots of Uzbek prostitutes in South Korea. They readily have sex with Russian men but they cost too much; the price reaches $200.
The capital of Malaysia, Kuala Lumpur is one of the few places in the world where Russian men stand better chances as for having sex with aboriginal women. In general, the entire of southeast is paradise on earth for white people. At night clubs, lots of girls are looking forward to someone presenting some drink to them. Act as a white gentleman, order double whisky for a girl and may expect to have sex all night long with her.
The situation is quite different in Switzerland. Two Russian men told that once they spent a day searching for a brothel in the city of Montreux expensive place. The adventurers nearly despaired to find a brothel there when came across a strip show at the outskirts of the city. They paid about 150 euro each and got inside of the strip show. They ordered a private strip dancer and were surprised to know that the girl who danced for them came there from the former Soviet republic of Ukraine. In fact, majority of prostitutes abroad are girls from Russia and former Soviet republics. In Amsterdam, half of prostitutes are Russians, others are from Czechia, Poland, Yugoslavia, Albania and from Asia. There are no Dutch prostitutes at all in Amsterdam! Those girls offer their services for 40-50 euro per 30 minutes.
Men should know that women of the Mediterranean Islands are not that easy as others mentioned above. Brothels are also scarce there. Girls in Malta are open for initial contacts and readily talks to foreigners and may even help to explain something. But they will turn down your immediate offer to have a date in the evening. Insular women are circumspect. If they decided to have a love affair with a foreigner this foreigner must at least at first make an impression of a well-to-do man. And he must be ready to a slow romance. Men who love sexual adventures recommend try to enter in a love affair with German girls who come to spend their vacations in the islands. They say it is not a problem to find a German woman in Cyprus or Maldives to enjoy a short resort love affair.