Adventures of a drunk tractor driver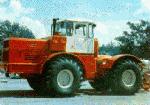 This story, which happened one of these days in the town Uzhum, Kirov region, could decorate any blockbuster.
A machine operator of a local Kirov agricultural production complex Trukhin decided to visit his native village, Shurma. To carry out his plan, the several-ton tractor 'Kirovets-700' seemed to be the best mode of transportation. Who knows why, but comrade Trukhin did not remove the heavy plough fastened to the tractor. The first obstacle appeared in the way of the brave tractor driver already in garage of Antonkovo settlement: one of the drunk Trushkin's colleagues tried to stop him. As a result – cranial injury brought with an iron tube. Two further obstacles – cars with drivers – were successfully sent with the plough to ditch (the plough came in handy!). The policemen, who put hedgehogs in the way of the irrepressible tractor driver, surprisingly saw how the hedgehogs simply got stuck in the tractor's powerful whiles, while the plough accurately cut off the roof of the car belonging to Trukhin's chief. Even the shooting of police guns, as well as of Kalashnikov submachine gun, could not help. Afterwards, the 'Kirovets' tractor finally drove into Urzhum village on its pierced tires and stopped before main entry of the local counting center. That was the end of the story. Trukhin was sent to hospital for a checkup, and the heroic tractor was driven to the nearest police station.