Paris Hilton palms Britney's breasts saying they are just friends
It is no longer news that Britney Spears and Paris Hilton somehow became inseparable right after Britney returned west from New York City in November. A lot of their fans think that their relationship is too close and couldn't be called just "funny games". Both stars have recently appeared in private sex tapes. Some critics suppose that soon we might witness their joint sex video.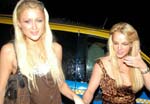 The blonde singer and the blonde socialite were out each night with several ending in a Britney nude flash and a salivating public waiting for the next wild child moment.
Several of those moments were when it was reported that Britney was learning exotic dances from Paris , photos were snapped with Paris having her hands on Britney's breast and in Las Vegas , Spears ended up dancing the night away with Paris after shedding her pants.
Next stop, rumors of a lesbian love affair.
Not so says Hilton. Despite the fact that the gals have shared stockings that's where it ends. Jeannette Walls of MSNBC lays out the case many were making that the girls may have become involved in more than just club hopping and serial flashing.
In the Monday morning Scoop the veteran gossip details:
Paris Hilton has a message for her fans: she and Britney Spears are not lovers.
The partying heiress and her underwearless new best friend have come under increased speculation lately as they romp around hot spots together. The buzz grew louder when Spears' hubby of 55 hours suggested that the "Oops I Did It Again" songstress likes women, saying, "She found other girls attractive, yes, but we never did anything about it."
In a recent photograph, Hilton looked very much like she was stroking Spears' upper thigh. And another report showed Hilton kissing another woman and suggested that Hilton and Spears are more than just good friends.
Source: nationalledger.com