Estonian beavers dig traps to catch security guards
Estonian beavers have flooded the zone between Estonia and Latvia and dug through the river's bank in such a way that the frontier guards fall in them while on the beat.
They cause most trouble to the frontier guards near the Pedley River.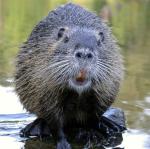 "The beavers dig through the peat banks of the river, and several guards have fallen into the holes up to their chest," - said the Helena Loorents, the border guard representative.
The beavers have also flooded the patrol paths, and it has made the frontier guards change their route. "The floods don't represent real danger to the frontier's security - the beavers usually choose quiet and almost impassable regions," - she added.
This is not the first time the Estonian beavers have caused problems. Last December the Lyaznesky District's conservancy permitted the Estonian militia to blow up 20 beaver dams. The water that had gathered in the Myagede and Patsu Lakes could have flooded 500 hectares of the drained forest.
The forest drainage that took two years to complete and that cost 7 million kroons (what is more than $500 thousand), came to the end only this summer. One of the detachments of Lyaznensky's militia unit blew up 19 dams on Saturday. They used 70 kilograms of explosives, mainly TNT.
The beavers are causing lots of damage to Estonia's agriculture and forests. Because of them, many lands are flooded. The number of playful beavers continues to grow.
In May, 2004, Estonian beavers set the forest on fire: they felt a tree, it fell on the power line, the forest went on fire, the fire caused the explosion of a shell that had been in the ground since the war.
Besides, the beavers have provided peculiar assistance to the integration of the Baltic States to the EU: they destroyed wooden boundary posts at the Latvian-Estonian border (there are 100 thousand beavers only in Latvia ). During the past 10 years the beavers gnawed at most of the boundary posts (the others went bad, while the borderland itself became rank).