Elephants get married to entertain tourists
India appears to be a good source of funny news. The latest piece of such news comes from a hotel situated at a beach resort in southern India . Two captive elephants were dressed up as bride and groom for a funny wedding ceremony to amuse guests there. Experts say such animal marriages are to become very popular in the future.
The "wedding" took place Sunday evening - billed as an auspicious night for Hindu marriages -- at a resort in the coastal town of Kovalam , a popular tourist destination in Kerala state.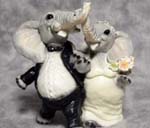 "It was altogether a different experience. I will remember it forever," said British guest Claire Abel from Liverpool on Monday.
But one activist questioned whether the captive elephants were being treated properly.
"Greedy owners exploit the captive elephants for making money and they don't feed them properly," said Renjith Devarajan of the Elephant Lovers Club.
The groom was a 12-year-old elephant called Raju, while his bride, two years younger, was called Rani.
Both wore embellished gold head-dresses for the hour-long ceremony, which was accompanied by temple music and followed by fireworks.
"We have organized the jumbo wedding to attract more tourists. The response was tremendous. In future we are planning to organize more elephant weddings," said Rajgopal Aiyer, a senior executive at Uday Samudra Beach Resorts.
Around 180 foreign tourists attended the event at the popular beach resort area, some 13 kilometers (nine miles) from state capital Thiruvananthapuram.
V. Gopinath, a senior state wildlife official, told AFP the government was planning a comprehensive law to ensure the safety of captive elephants.