Paris Hilton and Britney Spears have lesbian sex
Britney Spears is not the only one who loves some girl on girl action. Paris Hilton also likes it better doing it with women, according to an article ran in the 'News of the World' tabloid. The publication bases its story - besides on the words of the unnamed source - on a couple of circumstances regarding the heiress.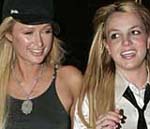 First of all, she is very fond of all her girlfriends, likes holding hands with them and occasionally giving them pecks on the cheek. With Britney, things went even farther, as she showed herself very protective with her during the wild nights they spent out partying and even supported her when she was too intoxicated to walk straight.
The second argument is the photo shoot that Paris participated in a very long time ago, together with Venezuelan model Eglantina Zing, where the socialite stripped completely and made out with her in front of the camera.
Then, last but not least, would be the spy's words. According to the source, Paris is head over heels with her new friend and lover, and she can barely keep her hand off her. 'But right now Britney's the one – Paris can't get enough of her!', the spy tells 'News of the World'.
And that's not all: she and Brit Brit made a sudden pit stop from the clubbing routine, entered a public restroom where they allegedly made out for approximately 20 minutes or so. Cue to the source again: 'They went into a toilet and came out 20 minutes later, clothes and hair all over the place.'
'They love to prance naked in front of each other and that night they really got to know each other. Paris led her to the bedroom, helped her strip and got her out in blue tutu and high heels for a dance on the stripper pole.', the tab writes, claiming that the 'getting to know each other' did not end in the bathroom, but continued at Paris' house in Hollywood.
Then, the last thing that the tab considers we should know about the fallen pop queen is that she lost her undies on so many occasions because Paris suggested it to her. 
Source: softpedia.com