Company managers make female employees pose nude for erotic calendars
Any ways and tricks are good for modern business if they bring out results. Some Russian companies publish nudes of their female staff in corporate calendars. Those calendars are not for sale. They are given away to the companies' clients. Bosses of the companies apparently believe that erotic pictures in the promotional material should entice more clients and increase profits.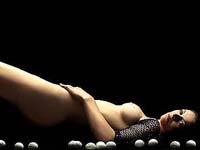 Shortly before the New Year holidays, one of the staff at the Novosibirsk branch of Evroset company came up with an idea of using nudes for the 2006 company calendar.
"Let's ask our prettiest girls to undress and take up sexy positions. Let's have them photographed so that we can use the pictures for a calendar to give away to our clients."
Everybody liked the idea. However, some female managers expressed doubts when asked to participate. "When they asked us to consider posing for a photographer, we promptly asked our PR department what kind of nudity was involved. Well, they told us we should figure it out ourselves, so many girls agreed to join the project," says Natalya Karavayeva, head of logistics department.
"We have brought all the stuff to a photographer's studio – feathers, fancy lingerie and dresses – everything we wanted to wear on a photo session," says Tatyana Kulyabina, HR specialist.
"At the start, all the girls were going to bare just a little bit. But the photographer persuaded many of us into posing topless. The results were just stunning!" adds she.
"All the clients just loved the calendar, they were pretty much amazed when they saw me dressed up as a vamp on those pictures," says Karavyaeva with a smile.
A Dutch hypermarket of household equipment used its saleswomen in a state of undress for boosting sales. The management talked female staff into posing for a local version of Playboy magazine. The plan provided for an improvised catwalk with TVs and washers sitting on either side. The "models" were supposed to walk back and forth wearing lingerie. But the photo session got them really excited. They bared it all. The issue of the magazine featuring the saleswomen in the buff sold like hot cakes. The sales of household items are reported to have soared too.
MUSA Motors, a Moscow company dealing in cars, also put up a calendar with explicit photographs. "In the past we already published calendars with pictures of our staff, nothing special, just a few good-looking faces on a fine backdrop," says Andrei Zakharin, ad director of MUSA Motors. "This year we opted for a more erotic to making calendars. Most of our clients are men, so men are our main target group when it comes to advertising. The basic concept looks pretty simple: men are normally interested in two things – women and cars. Women and cars look a lot better together. Those pictures really took the cake. Our clients just love the pictures. Did we sell more cars as a result? Our sales did not go down, that is for sure," says Zakharin.
A company with a nondescript name YuzhUralkhlebtorg is based in the city of Chelyabinsk . The company exports wheat to Europe . The market is pretty tough. The rival companies give away pens and calendars decorated with their company logos, wheat fields, harvesters etc. The Russian company put out a calendar featuring shapely office girls whose naked bodies were painted in a variety of colors and patterns. Now all clients can see that business in Chelyabinsk is pretty transparent i.e. naked.