A Russian girl singing a bit quieter than a plane seeks entry to the Guinness Book of Records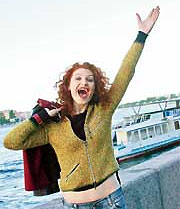 The compass of Tatyana Dolgopolova's voice is 5 octaves and one tone more. The girl decided to try her luck and sent a letter to the Guinness Book of Records. Soon, she got a reply saying she must provide documented proofs of the phenomenon which would make her a record-breaker in two sections of the book, The Deepest Voice and The Voice of the Biggest Range.
An independent commission at St.Petersburg Radio Organization was set up to study the phenomenal voice. When the singer came to a sound-recording studio and demonstrated her voice all the computers there suddenly buzzed. After the computers were enabled again, Tatyana had an opportunity to sing. Experts of the commission stated that the girl's potential was as great as that of a concert piano and gave her a certificate proving her unique capability.
The force of Tatyana's voice makes up 100 decibel which is louder than the thunder of a train and a bit lower than roar of a plane.
Tatyana's unique voice could have made her really successful in the Russian show business. A well-known Moscow producer offered a reckless scheme to her: he suggested that he would make a video for Tatyana's song but with some other girl pretending that she is singing. The producer promised good rotation of this video on TV. He also said that in a year after launching of the video, Tatyana must show up to expose the impostor and become a star. But Tatyana declined to play the trick. "It is dishonest and rather trivial by the way. I do not think I will do for the Russian show business where phonogram is so popular."
Well-known Russian singer Philip Kirkorov asked Tatyana for cooperation; he invited her to take part in his musical Chicago. Even though the girl performed successfully in all rounds of the test for the musical she still quitted the musical as she did not like the atmosphere there.
Leading expert of the Ukhtomsky Physiology Institute in St.Petersburg Nadezhda Andreyeva says it is quite natural that Tatyana's voice made computers in the sound-recording studio buzz. The compass of her voice is over 1,000 hertz on the one end and below 100 hertz on the other end. Software sometimes fails to process such high or low sounds.
Nina Rogova from the St.Petersburg Culture and Arts State University says that Tatyana's voice and diapason are unique. She sings soprano but at the same time she can sing such low notes that even not all male singer can.