Guy hijacks a bus, partitions it and sells as metal scrap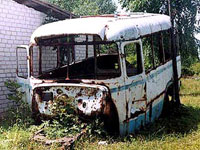 A young man decided to earn money by selling a bus belonging to his neighbor and parked not far from his house. The man hijacked the bus and sold it as metal scrap. Before that, he cut the bus into parts
A man from the town of Udomlya in the Tver Region of Russia hijacked a bus and sold it as metal scrap. Before that, he cut the bus into parts. The man immediately went into hiding as soon as he got money for the metal scrap.
Interfax learnt at the Internal Affairs department of the Tver Region that the young man decided to earn money by selling a bus belonging to his neighbor and parked not far from his house.
For the time being, the regional police are investigating the crime and also estimating the damage caused by the young man. The criminal is in hiding now and thus was put on the wanted list, the police report.
This is strange that thefts of metal things have become quite typical of Russia. In December 2004, strangers stole a monument to famous Russian poet Mikhail Lermontov in the capital of North Ossetia, Vladikavkaz. Witnesses of the crime say that several people came to the monument at about 5 a.m. with a lift crane and dismounted the bronze monument weighing 700 kilogram. The monument was unveiled in October 2004 when Russia celebrated the 190th birthday of the poet. This is astonishing that the criminals successfully stole the monument right under the police's very nose: a special 24-hour police station was situated right in the place to establish order.
In the Zakarpatye Region in February 2005, some criminals took to pieces an 11-meter metal bridge across the mountain river Svalyavka and sold it. The police are inclined to think those were locals who stole the bridge. They say it is unlikely that nobody of the locals saw some criminals took to pieces the bridge weighing over one ton; they must have used a lift crane and a lorry for the stealing. However, the criminals have not yet been found.
In Russia's Novgorod Region at the end of January 2005, some man cut to pieces a water tower weighing several tons and stole it. Parts of the stolen water tower were found later near the house of a 30-year-old man in the town of Borovichi.
Earlier, a similar incident occurred in the village Nevskoye of the Novgorod Region where two villagers stole a water tower and sold it as metal scrap. The criminals managed to take a great share of the water tower to St.Petersburg.