Foul language in adult videos works better than Viagra
An opinion poll conducted by the Russian Association of Sexologists showed that almost 30 percent of men are unable to perform an act of love if they only think about a possible failure in bed. Over 68 percent of men, who suffer from minor potency problems, prefer not to visit a doctor being scared of the medical examination process, the prostate massage and other procedures which they find utterly unpleasant. As a result, ten million Russian males suffer from erectile dysfunction because of those fears.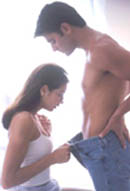 There is a variety of reasons that can lead to erectile dysfunction. Psychologists describe the so-called "first date syndrome" when a man gets too nervous meeting his new partner for the first time and fails to execute his natural duty in the end. If it happens but the partners stay together and decide to meet again soon, a man may think about his previous debacle and disappoint his lover again. As a result, a man becomes a victim of psychological impotence.
There is also a phenomenon of selective erectile dysfunction when a man has very good sex with his wife but fails to satisfy his lovers or vice versa. An absolutely healthy man can eventually find himself in sexologist's office to his own deep distress. In the gloomy office a desperate man can discover a great deal of things that he never knew before.
Modern doctors realize that psychological forms of erectile dysfunction (includes premature ejaculation, problems with erection, a short sexual intercourse) can be treated without any medications. For example, doctors can give a man a catalogue of arts to look through. They say that images of paintings produce a relaxing effect on a human being. Those, who suffer from weak erection can try and play a pornographic video while making sex. Doctors recommend that it should be a film of domestic production, where people can hear their native language. As it turns out, foul language in adult videos is a greater exciter than Viagra.
If a man suffers from psychological impotence only, he has morning erection and does not experience any problems while masturbating. If there are hormonal or vascular problems, a morning erection is impossible. In other words, if a "soldier is on guard" in the morning, it means that a man only needs to cast away his fears.
A collection of these photos removes all problems with erectile dysfunction instantly