Man undresses in Moscow parks to rob women
The Moscow police have recently arrested a rather "extravagant" thief in the southern area of the Russian capital. Muscovite Vladimir Martynov, 31, would hide behind the trees in a large park and wait for pretty women to pass his hideout by. Then he would jump out in front of women and take away their money, jewelry and cellular phones. The thief was attacking defenseless women absolutely naked.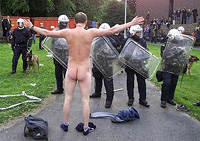 Needless to say that women would just stand still flabbergasted and stare at the naked man. The thief did not have to take much efforts to steal their purses and hide again.
An officer of the local police department said that Vladimir Martynov would come to a park dressed up like many other men: "As a rule, he would put on trousers and a shirt and even take his passport along. Then he would take off all of his clothes and leave only shoes and socks on. He would also wind his undershirt around his head and put sunglasses on to cover his face," the officer said.
In July, the naked thief attacked a 26-year-old woman who was walking in the park with her seven-month-old son. The naked man came out of the trees, approached the shocked woman, covered her mouth with his hand and told her to give him her money. After that, the man attacked two 15-year-old schoolgirls and stole their gold chains and rings.
The police arrested the flasher in the middle of August. Criminal exhibitionism has become Vladimir Martynov's trademark. It turned that the man has already had criminal records for such "bare activities" in 1974, 2002 and 2004, the Moskovsky Komsomolets wrote.
When the man was arrested, he covered his crotch and said that he was simply walking around in the park, doing nothing. When he was taken to a police station, he said that the police officers had addressed him.
The criminal probably hoped that his victims would be so impressed with his suit of Adam that they would never be able to remember any of his special marks. All the victims recognized the man's voice, though.

Click here to see an erotic gallery of nude athletes