Flock of geese steal cell phone from student
Sam Rozati, 23, was attacked by four geese as he walked past their nest.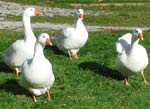 They pecked so hard he dropped his phone.
Then one bird grabbed the mobile and disappeared into the undergrowth in Colchester, Essex.
Final-year law student Sam said: "They flew over and started biting my hand until I dropped the phone. I had to move away for my safety."
His attempts to find his phone have failed — as it is set on silent, the Sun reports.
He said: "I'd never been mugged by anyone before, but now I've been mugged by geese.
"I go the long way round to go home now."