Moscow cold drives rats crazy and makes them attack banks
Russia has gone through much trouble during the long-lasting unbelievable cold within a couple of past weeks. It seemed that the cold wave would never stop. The authorities had to curtail electricity supply to enterprises in Moscow to spare energy resources. Russians changed their cars for public transport that also experienced quite a load during the cold days. In Moscow, there were traffic jams even in the underground that may sound really incredible.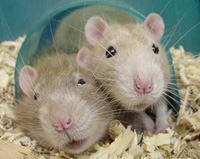 Another incredible thing is that for the first time over the past 15 years or even more the Moskva River got coated with ice. There are just few water openings in the south of Moscow where many industrial enterprises discharge hot water into the river. Experts say that usually the Moskva River never gets frozen in winter.
Under the extreme conditions when the outside temperature dropped to 30 degrees below zero, ornithologists counted the number of birds in the Russian capital. They were surprised to learn that one of mallard populations left Moscow for the south just few days before the cold wave! It is still a mystery how the birds could know the weather would be extremely cold soon. Ornithologists also counted less mallards in the Moscow Region as compared with the previous year. Experts were surprised to see horned skylarks on the Moskva River during the cold weather. Indeed, the bird seldom flies to this region even in summer not to speak about winters.
Rats known for their wonderful vital capacity felt absolutely desperate when frosts hit Moscow. Feeling absolutely frozen in basements, rats rushed to apartments and offices. The Moscow Disinfection Center reported that rats flooded first-floor apartments. Hundreds of Muscovites called the Center and complained they found rats in their apartments that came there from basements. Rats turned out to be so dexterous that even reached the fifth floor through ventilation outlets.
Officials in a Moscow banks said they witnessed a flock of rats jump out of the basement, cross the corridor and darted into an open door. Then they settled near a central heating radiator in the office of a high-ranking boss and would not leave the room until disinfectors arrived.