Pick-up is a sport for men who want to set their own sex records
Today, the traditional lovelace type has undergone some transformations and is known as a 'pickuper' or a playboy which is quite different from the romantic type of Don Juan.
At that, there is a great variety of instructions for a successful pickup for any man who wants to master it. Pickup is a system of doings based upon neuro-linguistic coding aimed at picking-up opposite sex individuals, getting their phone numbers or quick sex. Pickupers are men for whom the system is their basic occupation. Ross Jeffries' How to Get the Women You Desire into Bed is their best handbook. In Russia, there are two major pickup Gurus, Sergey Ogurtsov and Philip Bogachev who have been publishing their researches on the subject since the early 1990s and regularly organize expensive trainings for those who want to master the art of pickup.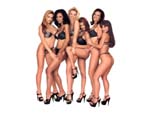 Care to pick her up? Click here to see the pix
Pickup is a male sport where men inevitably want to break records. A real pickuper seeks maintaining intimate contacts with as many attractive women as possible, and at that they do not want to spend their time, money and efforts. Pickupers like to boast their victories and like to evaluate their women by the ten-points scale. These men even have many particular terms and abbreviations in their vocabulary that are clear only for pickupers. A pickuper thinks he is a professional if he manages to persuade a ten-points girl he comes across in the street into "having a closer acquaintance" in the nearest WC. It is also not a failure if a pickup agrees to have sex just after a third date. In provinces, easier pick-up is more popular when men just collect acquaintances with girls and their phone numbers. However, in fact it often turns out that men indulging in pick-up pursue quite different ends.
Majority of pickupers are teenage dwellers of Internet forums who certainly have no money to attend special trainings organized for pickupers. These guys usually describe their new acquaintances with lots of spelling errors and going deep into detail. They are ruder to girls than any other pickupers and are particularly anxious about having lovers for half an hour. These teenage pickupers love to show each other pictures of their 'victims'. Experts state that these guys pose no real danger to the society as they are able to seduce only those young and inexperienced pickups who are waiting for them at cheap discos.
Another category of pickupers are romantic men who hope to find their significant other among numerous pickups. But these men feel they are too shy to try and get acquainted with girls in a normal way. They hope that a special pickup game may turn them into brave knights riding white horses. Among them, there are men who want to master easy communication with others, especially women. This type pickupers chat on the Internet forums, attend trainings and learn the art of pickup from books.
Some very busy or extremely rich men turn out to be wise and brave in the office only. Outside the office, they turn out to be shy and not well-informed about the world around them and about other people. So, they are even ready to pay good money for trainings to learn not just to pick girls up but to be able to get acquainted and communicate with women. These men are no danger for girls at all. On the contrary, it would be better if girls agreed to support them in their studies.
And the most treacherous category of pickupers is men who reveal the pathology of dominating over women. They often make the pickup their profession and can even make good money with it. These men as a rule develop into pickup gurus. They know really complicated psychological techniques, including the Erickson hypnotism; they are wonderful actors and improvisators. Fortunately, there are just few professional pickupers of the type, and there is little chance for women to be trapped by this category of pickupers.
And finally, among pickupers there are some men who are just curious to know what pickup is and how it works.
Men who hunt for women's hearts and bodies are absolutely sure they must be self-assured and resolute to achieve success with pick-up. They know that they may catch women unawares if act in a non-typical manner which will allow them control the situation. Majority of pickupers prefer the unusual manner of getting acquainted with girls and invent more openers, the phrases pickupers use to start a conversation with a girl, for this purpose.
It may happen that a pickuper behaves absolutely not gallantly. He may say ugly things to shatter girls' self-appraisal and unsettle them. And a good way to win somebody's confidence is to behave to strangers as if you are well acquainted.
Pickupers often employ hypnosis for their games. Professional pickupers quickly proceed from words to doings: they start from slight touches any moment it is possible and soon their cuddles get tighter. They say it disposes girls to erotism. Instructions for pickupers teach men where women have erogenous zones and how men should manipulate them for successful seduction.
Unfortunately, none of the pick-up instructions says what a pickuper should do with a girl as soon as intimacy with her is over. It is not ruled out that this ignorance makes inveterate pickupers seek more and more acquaintances with girls.