Madonna to promote Windows XP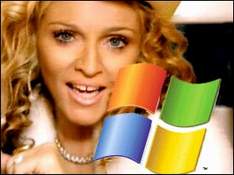 The 15-minute ad uses the lyrics of Madonna's 1998 hit Ray of Light (taken from the Grammy-winning album of the same year and title) "Quicker than a ray of light she is flying." The word "she" will mean e-mail, video conference and other multimedia things, which like the developers of Wondows XP stated, became more powerful, simple, available.
The slogan for the advertising campaign is: "You soar. Yes, you can." It was originally supposed to sound like "Prepare to fly", but this variant had to be rejected after September 11. Madonna herself will not appear in the ad. Probably she will perform her hit live at the presentation of the new computer system on October 25 in New York. The entire Microsoft personnel is expected to be present at the presentation. The amount of the transaction has not been exposed. Of course Madonna will get a lot, since Microsoft assigned $200 million for the commercial campaign to promote the new system. Moreover, the stars like Madonna are never cheap.