Moscow starts special anti-sex operation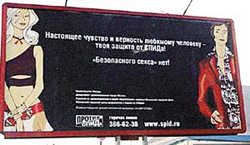 A new project launched under the guidance of the Moscow government shows that there is no sex in the city. Moscow streets have been recently decorated (or disfigured) with large billboards advertising sexual continence.
The billboards show an unusual image: there is a girl on the left wearing quite a frivolous outfit which reveals her bellybutton, whereas one can see a cissy-looking guy on the right. The slogan on the billboards says: "True feelings and devotion to the one you love is your protection against AIDS! There is no safe sex!"
Does this slogan mean condoms are no longer effective?
"Condoms do not guarantee the absolute protection against AIDS. Furthermore, their propaganda develops a non-critical attitude to sex. Young people start having their first sexual experience from the age of 14 now," one of the authors of the unusual program specified.
The Moscow government decided to spend a million dollars on the sexual continence program in the spring of the current year. The program raised indignation with public organizations propagandizing safe sex. One shall assume that nobody listened to their protests since such strange-looking billboards carrying weird messages appeared in the streets of Russia's capital.
In the meantime, the PR campaign of Moscow officials has caused quite a reaction on the Russian Internet. Young people are making fun of adults' concept: since there is no safe sex, then there is no need to use condoms.

Click here to see what women need to wear to seduce men