Is Mr. Gorbachev in love with an American millionaire?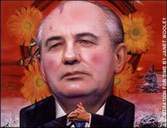 A citizen of California, Diane Meyer, is a 50-year-old heir of a large fortune, a beautiful, educated, and a very rich woman. If we believe the stories of the newspapers in California and New York, this woman has taken her place in the heart of the former Soviet Union President, Mikhail Gorbachev, instead of his former wife, Raisa, who died on September 20, 1999. So has the last communist leader of the former Soviet Union, the widower of the outstanding woman, fallen in love with the Californian millionaire? "Yes, - a gossip expert answered, - but you just try to perceive that in the right way."
Diane Meyer Simon, a female philanthropist, is preoccupied with the issue of the environmental protection, like Gorbachev. She founded "Global Green USA," - the American branch office of the similar ecological organization that was founded by the former Soviet president. This was written by the Daily News newspaper. Diane Meyer, a close friend of such influential people as Ted Turner, Steven Spielberg, she became one of the major sponsors of the Internet site www.mikhailgorbachev.org, the new digital library of the former Soviet leader, which started working in March of 2001 in connected with Mr. Gorbachev's 70th anniversary. Gorbachev closed his house in Moscow and moved to his villa in San-Francisco, just to be with her. However, Gorbachev's press-secretary rejected the information about such an affair: "This is totally ridiculous, - said he, - Diane and Mikhail are just friends. They have known each other for eight years, she was a friend of his wife, Raisa, too." It was Diane's fear of paparazzi photographers that made her stay in America on the day, when Raisa Gorbacheva died of leucaemia in 1999. "We were incredibly close to each other, - the former Soviet leader said, when he was laying the wreath on his wife's grave. – Our life was beautiful for the love and mutual respect that we shared." The love was so strong that Gorbachev agreed to participate in San-Remo festival in February of 1999 in order to spend his fee on the medical treatment for his wife. Unfortunately, the money did not help.