Sex toys become best-selling products over Christmas
Sex toys including a Mrs Santa outfit and various vibrators became the best-selling products over Christmas said the company, which has a sales staff of more than 7,500 women as party planners and 134 stores in the UK and Ireland.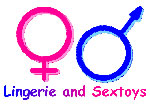 British sex toys and lingerie retailer Ann Summers said on Thursday its festive sales improved on the previous year thanks to a surge in sales of lingerie and naughty novelties over the Internet.
The privately-run UK company said retail store sales rose 2 percent on a like-for-like basis in December and 12 percent in the 10 days leading to Christmas. However, the biggest gain was with business from the company's Web site which helped sales climb 36 percent on the same month last year.
"In the face of some very difficult trading conditions, I'm pleased to say that we've again come out on top," said Ann Summer Chief Executive Jacqueline Gold. "The investments we've made in our multi-channel strategy are already reaping rewards, with the Internet — our fastest growing and most profitable sales channel — far exceeding our expectations for the year," Gold added.
 Ann Summers's financial performance in the UK mirrors a trend being seen in other markets, particularly the US.