Russian bakers pose naked to promote bread and buns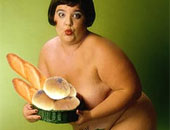 The administration of a bread-baking enterprise based in the city of Chelyabinsk ventured to conduct a rather original advertising campaign for their products. The company's management decided to strip their female employees to emphasize the products' availability and the company's transparency. Photographs of naked accountants and secretaries were used to adorn the corporate calendar and billboards. It is noteworthy that the enterprise has plans to launch another advertising campaign in the future, where women will be left aside, although men will be exposed to the maximum.
Such an idea apparently becomes a tradition in Russian business. The administration of a St.Petersburg-based enterprise offered their female employees (those who were in their twenties and thirties) to participate in an erotic photo session in order to use the photographs for the production of a corporate calendar of the company. Almost all women agreed to take part in the nude project, although there were several employees, whose husbands vehemently protested against it. Those women, who eventually took their clothes off in front of the photographer, never regretted the experience. The company presented its erotic volunteers with fancy lingerie and free services of hairdressers and stylists.
The calendar was eventually decorated with pictures of 13 women, four of whom take executive positions in the company, the Komsomolskaya Pravda wrote. When men were offered to do the same for another calendar, no one agreed to participate, but the boss.
It is noteworthy that the St.Petersburg-based company managed to improve its business relations with partners with the help of the erotic calendar. A lot of partners were willing to conclude any contracts with the enterprise.
Making an erotic corporate calendar is quite expensive: the company had to pay about $4,000 for the photo shoot. The production of one calendar like that is estimated at $150.