Britney Spears and Paris Hilton, worst celebrity dog owners, treat their pets like accessories
Her parenting skills have been scrutinized for months. Now Britney Spears has been voted the World's Worst Celebrity Dog Owner for 2006.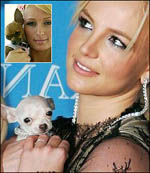 When it comes to celebrity dog-parenting skills, Oprah Winfrey is tops and Britney Spears is the world's worst, according to an online vote by readers of two dog magazines.
"Britney was the overwhelming choice" for worst celebrity dog owner for 2006, Hilary O'Hagan, editor of The New York Dog and The Hollywood Dog magazines, said in a statement.
"She once had three chihuahuas ... and never left home without at least one of them on her arm," O'Hagan said.
"As soon as she met K-Fed (her now estranged husband Kevin Federline) and had kids they (the dogs) disappeared."
Paris Hilton, 2005's "worst" winner, placed second this year for "treating her dogs like accessories," the magazines said.
Winfrey, who owns five dogs, was voted this year's best celebrity dog owner.
The talk-show host replaced 2005 winner, singer Joss Stone, and beat off competition from actors Tori Spelling and Nicollette Sheridan, AP reports.
Voting took place online over a three-month period, but the total number of votes won't be released, O'Hagan said today.