Beckham attaches himself bigger penis for 80,000 dollars to please Victoria
Photographs of a seemingly well-endowed nude David Beckhan have been released on the Internet. However, David's publicist insists the images are not authentic, saying: "The picture is a fake. The head is from a photoshoot we did in 2004 - and that penis is clearly not his!"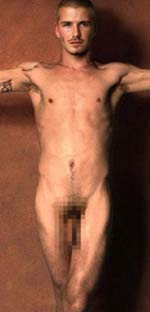 However, David Beckham may have decided to make a surprise for his wife's birthday in such an extraordinary way. It is widely known that David Beckham spent 80,000 dollars to buy a present for his wife.
The soccer superstar surprised Victoria with an overnight trip to Paris, spending $50,000 on a private jet and arranging private fittings with her favourite dress and shoe designers.
David, 31, packed a bag for her filled with new clothes, including a pair of skinny jeans from her latest range.
A source told Britain's Daily Mirror newspaper: "Victoria thought she would have a really low-key birthday, just going for a Chinese meal with David and their boys.
"But when she woke up, David asked her to get in the car - he had already packed a bag full of clothes he'd bought for her.
After arriving in the French capital, David took Victoria to Christian Louboutin and treated the former Spice Girl to a pair of $3,000 made-to-measure high heels.
The shopping spree continued at Victoria's favourite designer Azzedine Alaia, where the mother-of-three picked out a $14,000 custom-made dress.
David booked a $12,000-a-night suite at the luxurious Paris Ritz hotel, and ordered the room to be filled with Victoria's favourite flowers and champagne.
The couple finished the day at the exclusive Guy Savoy restaurant, after David splashed out $30,000 so they could dine in private.