Kylie Minogue regularly travels 420 miles to walk her dog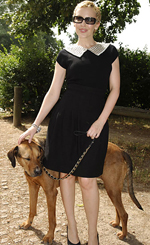 Kylie Minogue is making 420-mile round-trips to the Paris home of her ex Olivier Martinez - just to walk his dog.
The couple split after four years but Kylie, 39, is still besotted by his Rhodesian ridgeback pet Sheeba.
She now regularly jumps on the Eurostar in London and travels to his home in Paris to take Sheeba walkies.
A family member told The Sun: "Kylie and Olivier are not back together. Kylie has told us she only has eyes for Sheeba.
"It was the walks with her when she was struggling through cancer treatment which kept her sane.
"She loves Sheeba, that was her biggest worry when they split - that she would be denied visiting rights.
"Very often she jumps on the Eurostar and gets off at Paris to take Sheeba for a walk, have lunch and then gets the train back home.
"She says it's a great way to spend her day and really chills her out."