In bed with President Putin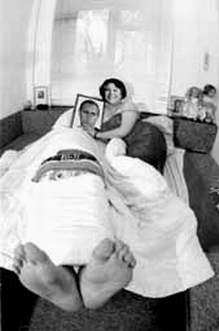 There is a new category of patients for the doctors in the city of Yaroslavl – women who are madly in love with President Vladimir Putin. Lyudmila came to psychotherapist with her husband – he brought her there. The woman with the figure which was far from being slim seemed to be crying for eternity. Her swollen face looked like a mask with no shape, only her eyes were alive. She was weeping then a short stop, then weeping again. She could not talk so the husband took on the initiative and told the story.
It all started one day when Lyudmila decided to have a file. The 39-year-old woman collected newspaper articles, photographs of the new Russian President. There were tons of articles to collect and the file became rather thick very soon. Lyudmila's husband was laughing at his wife's hobby, he once told her he was going to throw everything she collected out. Lyudmila took measures to protect her treasure – she put the file inside her lockable bedside table. Mikhail (the husband) was not really happy about it but his anger did not last long - there was a football match on TV and that distracted the whole of his attention. But that was only the beginning. Lyudmila asked Mikhail to turn the volume of the TV-set down for the radio was broadcasting a regular speech from the President. The family evening was over with Mikhail's yells and Lyudmila's tears. The second "bell" rang for the loving husband 2 weeks after. Mikhail came back home after work starving, but Lyudmila did not make a motion to make him full. Mr. Putin was giving an interview to the ORT television network and Lyudmila was sitting in front of the TV-set bedazzled. She could not take her eyes off the President. Mikhail rushed to the kitchen and "incidentally" broke a plate and threw a couple of empty pans on the floor. Lyudmila did not have any reaction. Then the husband made an attempt to turn the television off. That was such an active quarrel that they did not talk to each other during 3 days. Soon after that Lyudmila packed her stuff and moved from the bedroom to the vacant neighboring children's room. She hang Putin's portrait right above her bed. The husband was going mad. He took the portrait off the wall, threw Lyumdila's entire collection on the floor, the wife burst into tears. Those tears washed away everything which was used to be the Kolosovs family. The neuropathologist prescribed debilitants, prohibited to drink strong tea and advised to sleep as much as possible. The psychiatrist offered injections and hospitalization after he learnt about Lyudmila's intention to organize Putin's museum in a separate apartment in Yaroslavl. Lyudmila was so afraid of being taken to hospital, so hysterical about that the her husband did not agree to let his wife go. Mikhail decided – come what may. A private psychotherapist seemed to be the only way out of insanity.Doctor Igor Petrovsky made some comments on the situation. He said that the President charmed just everyone – both men and women alike, Lyudmila's story was not a unique one. However a man will never say "I love you" in public, men's words about the President are like these: "He is a good guy, I confide in him". The doctor also said that power as it is has always been rather a sexual issue in the human society. A lot of Russian women used to be deeply in love with a handsome politician Boris Nemtsov, with former Russian premier Sergei Kiriyenko."Mr. Putin can be an idol for many women. He is a serious, reliable, neat man. He is not tall, but strong, you feel like to can trust him. In other words a woman may have the new feelings towards the President in contrast to what she actually has. They perceive Putin as superhusband, the ideal partner. He would never betray, never get dead drunk. Besides, you can seldom see Putin's wife on television – this is another factor giving the incentive to women. Let's take Lyudmila's family: she was happy, her husband loved her, he earned good money, they had 2 children. But Lyudmila's obsession was that the President was not happy in his personal life", - said the doctor. It should be added here that Lyudmila is currently getting better, there is a hope she will recover.