Ukraine: Osama bin Laden – terrorist number two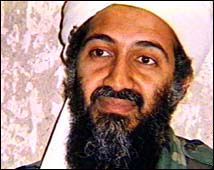 Yelena Solod (the leader of United Family party who well known in Ukraine with her preposterous political PR-technologies) has sent her documents to civilian registry office of Kommunar district of the city Zaporozhye intending to change her first and last names. The civilian registry office's workers were surprised to know the name Yelena Solod is intending to bear: Osama bin Laden.
Answering the many surprising remarks that changed to laughter, Yelena Solod harshly said that she had followed all the nuances of the law, so she could not be turned down. Yelena Solod neglected all the arguments against her decision: that Osama bin Laden is a male name, that this name belongs to terrorist number one, and that certain amendments would need to be inserted into other documents, such as her certificate of her children's birth certificates. Expressing her protest to the state employees, Yelena Solod made a statement to the press, announcing she was intending to bring an action against the civilian registry office's workers. Now, they have nothing better to do than to send an inquiry to the police to clear up whether or not there are any obstacles to stand in the way of Yelena Solod's intention (for example, Yelena cannot change her name if she is wanted or under examination); otherwise, law-enforcement bodies have no right to prohibit Yelena from changing her name.