Colin Farrell entertains Salma Hayek with striptease on the beach
When one sees erotic episodes in Hollywood films actors playing there seem to be relaxed and free. But in fact, many actresses are incredibly shy and nervous when they have to appear nude in some bed episodes. And the situation does not improve when they are offered incredibly high payment for such episodes. Some of these actresses even request that stands-in must appear in erotic episodes instead of them. Brunette beauty Salma Hayek made a decision to appear in an erotic episode of the new movie Ask The Dust together with wonderful Colin Farrell. The actress felt too shy, and enterprising Farrell cast her uneasiness aside when unexpectedly performed some sort of strip-tease.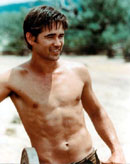 Before shooting of the nude scene, Salma, 39, felt incredibly ill at ease. She first of all was anxious because of Colin's reputation of a smoothie. And second, Salma like any other girl was embarrassed to appear nude before the man.
Click here to see Salma Hayek's photos
Fortunately, Colin Farrell helped Salma through a freezing nude scene. The actor ran around the set of the film absolutely naked before his erotic scene with Salma to put the actress and the rest of the film crew at ease. Colin's idea made Salma laugh and relaxed the tension. What is more, the actor's behavior earned him Salma's respect. She called Colin a real gentleman as he never looked at her when they were doing the scene; he kept his glance at her eyes.
It is true that nude scenes are not at all a problem for some of Hollywood actresses. Scarlet Johansson for example says she loves to appear in films with nude scenes. She particularly loves to demonstrate her bosom to film partners. Sharon Stone also does not mind appearing in nude scenes. After her erotic scenes in Basic Instinct 2: Risk Addiction, the actress says she would like to appear nude again in her next films. At that the actress emphasized that she under no consideration would allow some film bosses to somehow change parts of her body she revealed before the camera.