Are you in the mood for a laugh??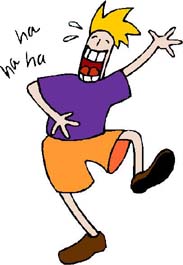 Here are a few anecdotes to make you smile:)
1. Oh, my God! –utters wife. -I am sick and tired of our never-ending scandals!Husband:-Well, would you rather have me beat you up in silence?2. Hey, listen, dude! I just got myself a new phone with a really awesome calling plan!-Oh really?! Which one is it?-Well, I pay nothing for incoming and outgoing calls-But there has to be something wrong with it then-Nope, nothing is wrong with it!-Perhaps the phone is too bulky?!-No, actually I've got the latest sleek model-Perhaps the roaming is expensive?!-No, no, I can call from anywhere to anywhere…for free! Write down my phone number:1531479165916589771985798746891789719873871617856178657689. Did you get it down?-Yep!-Well, this is just the area code; here is the number...3. Some Company X has a very strict working schedule: 9 AM - 6 PM. Everyone however is working from 7 AM to 8 PM due to an overwhelming amount of work. Suddenly, everyone began noticing one man who would come to work at 9 AM and leave around 6 PM day after day...in the course of the entire week. Then, one of his coworkers got completely annoyed with such behavior:-Hey, are you completely nuts or something? We are all working here like slaves and you think you can just slack off and do nothing?Completely stunned, the guy replies:-Well, you see, I am on vacation!4. Father returns home from a long day at work and finds his daughter having fun with a vibrator. Father:-Hey, dear, what are you doing?Daughter:-Well dad, you see, it is so hard to find a decent guy these days! They are all bastards! I stopped by a sex shop today and decided to buy myself a "husband"...Now, I no longer need a man!The next day, the girl comes home and witnesses the following scene: Her father sits at the table and drinks vodka. On the opposite side of the table lies her vibrator with a glass of vodka next to it. Daughter:-Dad, what are you doing?-I though I would have a few shots with my son in law!5. How cool would the advertising campaign be if the well-known slogans were used to advertise...Condoms!!!Condoms "Nokia" - "Connecting people!"Condoms "PEUGEOT" - "Games are over!"Condoms "Blend-A-Med" - "Triple protection for the entire family!"Condoms "McDonald's" - "I'm lovin' it"Condoms "L'Oreal" - "Because you're worth it"Condoms "Nike" - "Just Do It"