Sexy look may stop you from going to sex clubs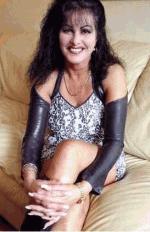 You can not be allowed to go to the sex club for different reasons. For example, you will not gain entry to a sex club if you are under 18, if you are too drunk or if you don't have any money. These reasons are rather understandable. But there is another reason too – you may not be allowed to go to a sex club if you look too sexy. This is weird, because the sexy look is the best one to go to a sex club.
Lie Verduin and her husband decided to go to De Manege sex club (Lithuania) but they were not allowed to go in due to Lie's too hot look. As a result Lie's husband is going to sue the club for that. He is sure everything happened just because of the fact his wife was very beautiful and other women envied her and did not want her to be present. However, the owner of the club, Ed ter Shuur did not agree with that version. He claimed it was not about Lie, it was about her outfit: "Only decent people attend our club. We would like everyone to feel comfortable. There is no place for a woman who dances in the outfit that can not be referred even to underwear – so skimpy it is". It is very interesting what the court will say on the matter if the lawsuit is going to be filed indeed.