Man carries embryo of his brother under scapula for 35 years
In the Urals industrial settlement of Achit, tractor driver Igor Namyatov, 35, became a legendary person within a week. Locals rumor that surgeons found an alien in the body of the tractor driver. Others regret that the strange body was removed from the man's body. They suppose the strange discovery would have been of great use for scientists.

Not long ago, surgeons actually removed a human embryo from the body of Igor Namyatov. The undeveloped embryo was his brother who has been staying between the shoulder-blade and the spine of the man for 35 years. It was twenty years ago when Igor for the first time felt there was some strange tumor under his shoulder-blade. Surgeons examined the man and said he had an ordinary lipoma under the shoulder-blade. Igor said the lipoma did not trouble him too much, so the doctors stated there was no need to remove it immediately.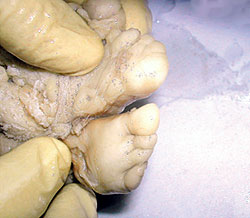 A month ago, the lipoma grew immensely. It did not hurt but still caused some inconvenience to the young man. Local doctors decided to remove the lipoma from the man's body. 
The local surgeon was surprised to see that the strange lipoma was located on the man's muscles while lipomas usually grow right under the skin. When the surgeon began the operation he saw the lipoma had a vessel which is also atypical of such formations. Now the doctor supposes that probably was an umbilical cord of the embryo. When the doctor continued to remove the lipoma he first saw little feet, then came long and big hands resembling wings. The head of the embryo turned out to be disproportionately small. It could not develop under the brother's shoulder-blade. The surgeon was shocked to see that the male embryo's penis was the most developed part of the organism and hung down to the knees. However, the surgeon is not absolutely sure the strange lipoma he removed from Igor's organism was actually an embryo of his brother. He says it is not ruled out that was an unusual lipoma. The local surgeon insists the lipoma must be given a deeper analysis.

An expert who came to the place from the Sverdlovsk Regional Forensic Expertise Bureau said there was no need to have additional expertise. He said it was quite clear the removed lipoma was an undeveloped embryo of Igor's brother. The expert meant to make study aids for medicine students using the embryo. But Igor would not like his brother be used as study aids and wants to bury him.