Russian man tattoos Putin on his chest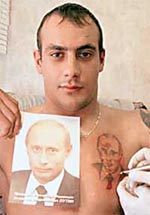 Pavel Korban, a  twenty-four-year-old bus-driver, said that he had a President Putin tattoo made because nobody else has it. "Every other person on the beach has a tattoo with dragons, domes and monograms, but you can hardly find anyone with a Putin tattoo," the man said.

The man agrees that the tattoo will be actual no more after Putin steps down after the 2008 election. "Putin will be history anyway. On top of all, he is a great guy," Pavel said.

Evgeny Makarov, a tattoo artist, agreed to fulfill the unusual order. The president's portrait was placed in front of him and he began working. "I kept looking at the portrait, comparing the tattoo with the original,"- recalls Makarov.-"I think it turned out extremely good. He appears kind but a little shy. 

"When I had the tattoo done, I became more serious and responsible"- comments Pavel as he strokes the tattoo on his chest. "It is as if the President's image had penetrated into me."

Previously, it was prisoners' tradition to make tattoos portraying political leaders. The leaders were shown in a satiric way. Thus the attitude of the prisoners to the communist regime was demonstrated. In the 1930s the prisoners had a belief that if they made a tattoo of Lenin or Stalin on their chest, they wouldn't be shot. They believed nobody would dare shoot the images of the communist leaders.