Harry Potter and Hermione experience sexual delight
On the opening night of the fourth film about the adventures of a young magician "Harry Potter and the Goblet of Fire", that took place in London, the three best friends – Harry Potter ( Daniel Radcliffe), Ron Weasley (Rupert Grint) and charming Hermione (Emma Watson) behaved like grown-ups. No wonder. Given the four years that have passed since the first movie series of "Harry Potter and the Sorcerer's Stone" came out, the kids have really grown up in the direct and figurative meanings of the word.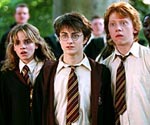 The first to start the adult life was the film star Daniel Radcliffe. The sixteen-year-old actor fell madly in love with a 23-year-old Emmy Bern, a stylist, during the shooting of the fourth film. According to Ron Mathew, who lends an apartment in his house to the girl, Daniel had been coming every evening to see Emmy and even spent some nights in her apartment. And if he didn't have the chance to come and see her, he called her at night and was hanging on the phone for hours. When the work on the film ended, the couple was spotted together at different parties.
Harry's 'screen girl' Hermione does not waste her time either. She has an affair with Harry's worst enemy, Draco Malfoy (actor Tom Felton). In real life, the blond rascal turned out to be a nice guy. But unlike Radcliffe and Bern, they haven't reached the bed-stage yet. The oldest of the trio, Ron Weasley (Rupert Grint) stands aside from his friends. He hasn't yet found the love of his life. But that's alright. The shooting of the fifth series about the young magician, "Harry Potter and the Order of the Phoenix", is to start soon. It's quite possible that he might meet his own "stylist" in February of the year to come.