Erots 2006 erotic festival took place in Riga, Latvia
The annual Baltic sex festival, the erotic festival Erots 2006, was held on February, 17th and 18th in the Kipsala show room.
At Erots 2006, visitors were offered a wide range of erotic goods, the performances of porn stars, the Men of Eve strip show, the lesby-show, the travesty-show, as well as a live performance of the sex rock band Erocktica.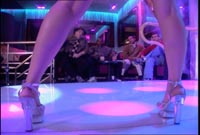 Among the famous guests are Pink Snow, the singer, Mya Diamond, the porn star and the sex-symbol of show business and avant-gardist culture of New York , Victoria Swinger, Nikki Rider, and Lauro Giotto. The latter began his career working as a photo model and taking part in the famous men's strip-tease group Chippendales. Four years ago, Lauro Giotto started acting in hardcore films. At the moment, he has starred in 60 films.
Mya Diamond has been shown in 12 films of the leading "Private" porno company, in more than 80 films of the companies like "Hustler", "New Sensations", "Zero Tolerance", "Smash", "Goldlight", "Salieri", "Platinum X", "Paradise Film", "Vivid", "Evil Angel", "Mercenary".
Victoria Swinger has won numerous prizes at the major porn industry events like AVN (Las-Vegas), as well as at various festivals in Budapest, Brussels and Riga. She starred in more than 60 films.
Nikki Rider was acknowledged the best debutant actress in Hungary and won the prize for the best erotic show at the erotic festival in Budapest in 2005. She acted in 13 films of the "Private" company, as well as in the films of other major porno producers. It is for the first time that the sex rock band "Erocktica" will take part in the festival. They combine live performance in the pop-metal style with an erotic show.