Androgyne moose killed in Canada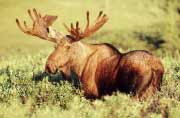 A local hunter killed a very rare animal in the north of Canada this Monday - the androgyne moose. As biologist Rick Word told Reuters, the hunter thought he was killing a common male moose but when he got closer to it, he saw the animal had female genitals.
Word said it was a female with the antler – a solely occasion among the mooses. Rick Word said it was the first time when he came across with such a specimen in spite of the fact Word was studying mooses for 15 years.The hunter did not want to expose his unusual prey for it was prohibited to hunt for mooses in that area of Canada. Besides, the meat of one moose only would be enough for the whole winter which makes this animal a valuable object for hunting. Nevertheless, the unknown hunter evaluated the occasion and did not take the killed moose home. He called for the forester and a spokesman for the local Ministry for Nature (including Rick Word). The body of the animal was brought to Word's laboratory. The biologist says, he has never had such a luck in his scientific life. The scientists took care not to fine the moose's killer and he is currently preparing the survey of the unique animal.