TATU's girl becomes a mother and plays a prostitute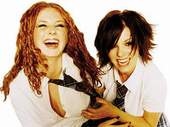 The Russian duet TATU is known worldwide for its lesbian image: two girls wearing short skirts, white shirts and knee-highs passionately kissed on the scene some time ago, they spent nights in the same hotel room and stated lesbian love was wonderful. Two years ago, nobody could predict the life of the popular duet would change so radically.

New details about the life of the two singers shocked their admirers. For a long period, Yulia and Lena performed a lesbian love under the direction of their producer Shapovalov. Suddenly, it became known that Yulia Volkova was pregnant. The information absolutely disagreed with what the girls said about their love towards each other and the performances they played on the scene.
In different parts of the planet, people danced to TATU's music, and suddenly the girls confessed in an interview that they never were lesbians and always preferred heterosexual love. They add that kisses and embraces people saw on the scene were just the demonstration of the two friends' sympathy.
Now, when the girls are back to the show-business and have a new producer, their image is quite different. But their mission is still the same: they want to shock and astonish. In a video to All About Us from TATU's new album Dangerous and Moving, young mother Yulia Volkova plays a prostitute killing her client. The video is very natural, and it is much better than the previous TATU videos. Yulia and Lena's message says "we are wicked, we are cruel and we are heterosexual."
But spectators should remember that this epatage is just another deceit. Even though the girls play cruelty and violence on the scene, they do dream of getting married and having good families which is typical of all popular stars who get up older.