Repulsed lover publishes nude picture of his ex-girlfriend in men's magazine
Eldar Subaev and Svetlana Goryacheva's love affair lasted for about half a year, but he still considered Svetlana to be his property. When she told him that she had fallen in love with another man and suggested they didn't see each other any more, Eldar decided to take revenge.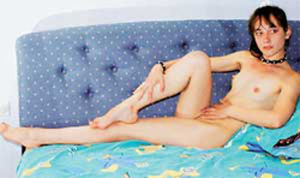 One day Eldar came to Svetlana's house saying he wanted to dot all the i's.  He managed to steal a picture of Svetlana totally naked. When he left, he went to a local post-office and sent the picture to one of St.Petersburg-based erotic magazines. A few days later he got his pay – $5.
Sveta wouldn't have found out about the joke her ex-boyfriend had played on her if it wasn't for her boyfriend who was a big fan of that magazine. When he saw the picture in the magazine, he went totally mad.
 
"Don't you understand, my girlfriend at school and I took pictures of each other. Just so when we are old, we could admire ourselves," Svetlana was trying to prove her innocence.

Click here to see a gallery of Jessica Alba, a sexy movie star
She understood right away how the picture could be published in the magazine for men. She took the magazine with her and went to the police. "He must be punished for that," the girl said to the police officers. "I showed him the picture because I trusted him!" exclaimed she.
Eldar didn't deny anything, but assured that it was just a joke.

Elena Uvarova, a police inspector:
"Mr. Subaev is being sued for "Illegal distribution of private information  infringing inviolability of a person". The case has been passed over to the court. At best, the revenge will cost Mr. Subaev from 200 to 500 minimal wages. He could be arrested for up to 4 months. However, either way it will be not much help to his ex-girlfriend: the magazine is for sale without a right to withdraw."