Muscular women ease muscle pain drinking coffee
Muscular women can use coffee as an effective antidote to ease post-exercise muscle pain, according to new research. Paradoxically, coffee seems to be better in this case, as moderate doses of caffeine, as found in two cups of coffee, greatly reduce post-gym muscle pain.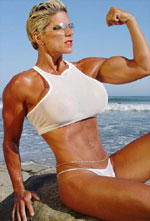 This research is more relevant for people new to exercise, since they are more prone to experience the most soreness.
"If you can use caffeine to reduce the pain, it may make it easier to transition from that first week into a much longer exercise program," said lead researcher Victor Maridakis of the University of Georgia.
The team investigated nine muscular women who were not regular coffee drinkers and didn't go to the gym on a regular basis.
The women were put to ingest either caffeine or a placebo liquid one and two days after an exercise session that caused moderate muscle soreness, after which they carried on two thigh exercises, one of maximum muscle effort, and the other sub-maximal effort.
Caffeine consumed one-hour before the maximum force test induced a 48 % decrease in pain; those who took caffeine before the near-maximum force test presented a 26 % drop in soreness.
Caffeine is usually taken to increase alertness, but it's also proven to boost endurance, and one study discovered caffeine to decrease pain during moderate-intensity cycling.
Scientists can only guess, by now, that caffeine blocks the receptors for adenosine, a chemical released in response to inflammation and implied in pain sensation.
The results are also conclusive only for those who are not regular drinkers; regular drinkers might be less sensitive to caffeine's effects.
Another missing of the study is that it did not investigate males, who may have a different reaction.
"A lot of times what people use for muscle pain is aspirin or ibuprofen, but caffeine seems to work better than those drugs, at least among women whose daily caffeine consumption is low," said Patrick O'Connor, also of the University of Georgia.