Fans ordered a striptease show to boost their favorite team's performance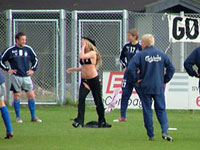 A quite original action was organized by the fans of the Danish soccer club "Odense" in order to support the players who had recently lost several games. The fans ordered and paid for a stripper, who was invited to visit the footballers' training and to encourage them with an inflammatory dance.
It needs to be remarked that outside temperature during this invocatory dance was around +10єC.As for now "Odense" occupies the sixth place in the Danish National Championship. After 24 matches the team won 9 times, 7 games ended in a draw, and 8 matches were lost. They score only 34 points, that is 15 points less against the championship leader "Brшndby"."Odense" also lost 7 matches one after another.