Bikini models risk their health wearing G-strings
Bikini models risk their health wearing G-strings knickers. They can damage the skin and cause infections, experts in Germany warns women.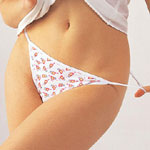 Dr Thomas Gent of the Association of Gynaecologists advised women to wear bigger pants to avoid complications.
He blamed the friction caused by the string part of the underwear for a big rise in the number of patients he had seen reporting genital inflammation.
A UK gynaecologist said it was the ill-fit rather than the underwear type that was probably the problem.
Dr Gent said: "G-strings can abrade and injure the sensitive skin around the genital area - especially if they are too tight or made with badly stitched material."
This damage can aid the spread of bacteria and cause fungal infections, he said.
He said if underwear is too tight it can create an ideal environment for fungal infections, such as thrush, to grow and thrive.
Experts say that bikini models are the most risk-prone in terms of fungal infections because usually have to wear G-strings during long periods of time.