Man performs act of extreme striptease in the center of Kiev (pic)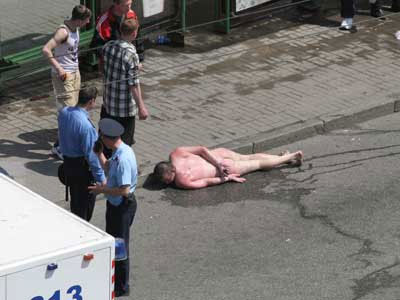 A decently dressed man decided to perform an act of extreme striptease in front of hundreds of amazed passersby in the center of Ukraine's capital, Kiev. An unidentified man of about 30 years of age was at first walking along the sidewalk and the traffic area of Leo Tolstoy Square. A little bit later, the man decided to sunbathe on the pavement naked.
The man was standing in the middle of the square in the beginning of the outrageous performance. He was spreading his arms as if he was trying to hug the world. The nude man entered the building of a bank, but soon appeared outside again, entertaining the people around him with his appearance. He lay down on the asphalt road and relaxed, as if he was on a beach. The police arrived to the site of the incident soon. However, the police were taking care of the road traffic: they did not want a car or a bus to run the man over.
When an ER vehicle arrived, a doctor tried to pick the man up from the ground. The extreme holiday-maker jumped up on his feet and slightly hit the compassionate doctor. The latter decided not to do anything but to retreat to his vehicle. The man continued taking his sun-bath. Passersby were highly interested in the nude man too, of course. Someone poured some beer on the nudist; others were trying to talk to police officers and medics. The police eventually handcuffed the eccentric man - he was still resting on the road - and literally rolled him up towards the trolleybus stop. "Rescuers" tried to refresh the man from a watering machine with ice-cold water. Another ambulance vehicle arrived to Leo Tolstory Square 1.5 hours later. Aid-men quickly picked the nudist up, put him in the vehicle and off they went.