Man's middle finger became his new penis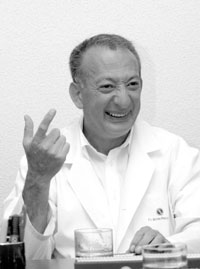 The patient was pleading with the doctors. The man said he had cancer, but after the operation, there were only 2cm of his penis left. He did not want to be a without his tool, so he agreed to sacrifice his finger.
In the beginning, he thought it was because of the heavy rain that drenched him; he was freezing. Several days later, he noticed ulcers on his penis, and it became very painful to use the toilet. David (the last name is not known) started a self-treatment course, taking herbal medicines; however, this did not help. He then went to the hospital; the doctors diagnosed him with cancer of the penis. They told him that an operation was vital and he needed it as soon as possible. "They promised they would cut just a little bit," David recollects, "but when I looked at what was under the bondage…Doctors and nurses rushed in to settle me down - they said I would be able to urinate with no pain. Good excuse! What about the rest? I am a man; I am only 60, I am still attracted to women! The doctors took offence. They said my claims were stupid; they saved my life. People close to me noticed the difference in me right away, although I did not expose the details of the operation I had to go through. They all were bugging me with questions like what was wrong and why I was so gloomy all the time? I gave way to despair, I started living like a robot. "I learnt about doctor Kuzanov's clinic incidentally. The specialists of the plastic surgery clinic in the city of Tbilisi (the capital of the republic of Georgia) are like miracle-workers – they bring disabled people back to life."Iva Kuzanov – a surgeon at the clinic said the material that is used in his clinic most often is a finger. This idea came up when David arrived. Kuzanov said he could help him with his problem by taking one finger off his hand; the doctor also warned him of the possible risks. David was ready for anything. It took 15 hours to perform the operation. David's middle finger (because it is the longest, the new body part would be 17-20cm long!) was cut off. They turned the finger inside out and started making a new penis out of it. Kuzanov said the new penis was very fine and even more – a man would be able "to do it" any time, any place, and as many times as he wished. The doctor advised that such s penis would not only give pleasure to a woman, a man would also enjoy sex. Moreover, a finger-made-penis is very good to use, since it could be "bent" on the phalange joints.After about one month, David came back to the doctor shining with his smile. He was happy. Currently, David is planning to get married; Doctor Kuzanov is going to be a guest of honor.