Europeans and Americans organize pillow fight clubs
Europe and America has seized upon the latest craze, pillow fights on the street. People have joined special clubs in order to take part in the fights.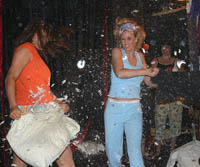 These associations are called 'Pillow Fighting Clubs'. There are a few strict rules for the members of such clubs:
Tell everyone about the 'pillow fighting club'
Don't hit anyone that is in pain or does not have a pillow
Everyone takes part in the fight
Battle begins at the agreed time. No earlier!
No heavy objects should be in the pillows
According to pillow fighting club tradition feathers should be thrown over the new boy in the club after their first fight.
One of the biggest pillow fights took place on Valentine's Day this year in San Francisco. Two hundred people in the course of just one hour violently flung around pillows, hitting people right, left and centre.
Police did not stop the crazy game and hundreds of onlookers watched the mayhem. At the end of the fight half a dozen volunteers, armed with brooms, cleaned the street. To clean up their own mess is one of the unwritten rules of the pillow fighting clubs.
There are clubs all over the world – America, Israel, England, Italy and Norway. Two weeks ago the first Russia pillow fighting club opened in Moscow. The club has an official website. Based on what has been said in forums on their website, their first pillow fight is planned to take place in one of Moscow's main squares on 1 April. It is not known how the city's police will react to the harmless fun and take into consideration that it will be April Fool's Day.
Translated by Michael Simpson